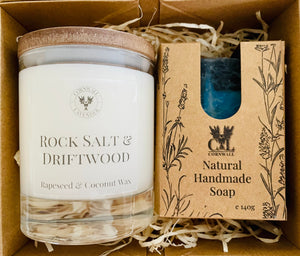 Show your love with a hand poured candle and luxurious artisan -crafted soap bar. Choose your products and add a message to customize the gift. Our eco-friendly box and Cornish Tartan trim further enhance the gift, embellished with our signature wax seal.
Handmade and hand-poured in the beautiful Cornish  countryside, these highly scented candles will fill your home with a wonderful scent for many hours.  All our candles are 100% plant-based and cruelty-free.

* The wax we use is made from rapeseed oil and coconut oil and nothing else. It is completely free from paraffin, soy, palm, beeswax and synthetic additives. It is more eco-friendly and sustainable than soy or paraffin wax and is 100% plant-based and biodegradable.

As an eco-friendly business, our packaging is 100% recyclable.