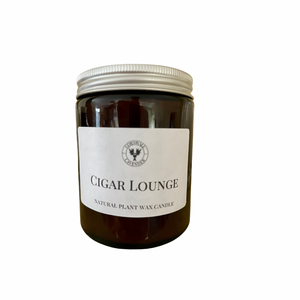 This luxuriously sophisticated candle features a warm and mellow scent of Cuban tobacco leaves enveloped in a creamy blend of spiced cognac, white peach, and balsamic wood, balanced by a base of ambered cashmere, leather, and some subtle accents of lime and bergamot. Carefully hand-poured with Rapeseed and Coconut Wax to ensure optimum scent throw and an impressive 40-hour burn time. 
Handmade and hand-poured in the beautiful Cornish  countryside, these highly scented candles will fill your home with a wonderful scent for many hours.  All our candles are 100% plant-based and cruelty-free.

* The wax we use is made from rapeseed oil and coconut oil and nothing else. It is completely free from paraffin, soy, palm, beeswax and synthetic additives. It is more eco-friendly and sustainable than soy or paraffin wax and is 100% plant-based and biodegradable.

As an eco-friendly business, our packaging is 100% recyclable.