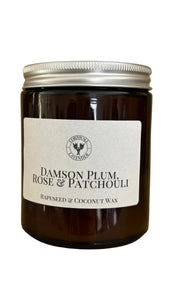 This luxurious fragrant candle consists of a euphoric blend of fruit-scented notes of plum, cassis and berries, enhanced by cinnamon, clove and floral chords of Jasmine and rose. A touch of sweet patchouli and velvety vanilla entwined with Rapeseed & Coconut Wax releases a powerful, alluring aroma that will last for approximately 30 hours.
Handmade and hand-poured in the beautiful Cornish  countryside, these highly scented candles will fill your home with a wonderful scent for many hours.  All our candles are 100% plant-based and cruelty-free.

* The wax we use is made from rapeseed oil and coconut oil and nothing else. It is completely free from paraffin, soy, palm, beeswax and synthetic additives. It is more eco-friendly and sustainable than soy or paraffin wax and is 100% plant-based and biodegradable.

As an eco-friendly business, our packaging is 100% recyclable.