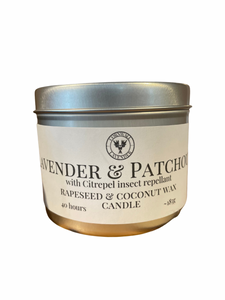 .
Our Lavender & Patchouli candles create a harmonious fragrance with a lovely warming feel. Oils of Patchouli and Cedarwood blend perfectly with crisp eucalyptus before being rounded off with a tonka and vanilla base. Being nature-derived, this fragrance is truly unique. Using new technologies, the Lavender and Patchouli oil contains upcycled akiglawood - a spicy woody scent derived from Patchouli oil. The beautiful concoction of floral and woody aromas is mixed with Citrepel - a highly effective insect repellent, making it a wonderful choice for outdoor (or indoor) home fragrance products. These  candles are encased in a lidded tin , making them a stylish addition to your home or garden. Citrepel® is registered under the Biocidal Products Directive (BPR) and is certified as a product of natural origin by ECOCERT.
Handmade and hand-poured in the beautiful Cornish  countryside, these highly scented candles will fill your home with a wonderful scent for many hours.  All our candles are 100% plant-based and cruelty-free.

* The wax we use is made from rapeseed oil and coconut oil and nothing else. It is completely free from paraffin, soy, palm, beeswax and synthetic additives. It is more eco-friendly and sustainable than soy or paraffin wax and is 100% plant-based and biodegradable.

As an eco-friendly business, our packaging is 100% recyclable.