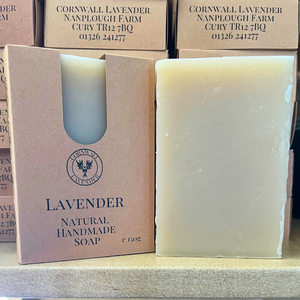 Lavender Natural Handmade Soap Bar Large

Our Lavender Soap Bar Large is crafted with pure Lavender essential oil grown and distilled in our farm, with clay to help purify the skin. We make all our cold processed soaps by hand at our farm located on the Lizard Peninsula in Cornwall. The combination of oils and butters results in a creamy and moisturizing lather. Additionally, our soap is palm oil free, paraben, SLES and SLS free, handmade in small batches, not tested on animals, and free of artificial fragrances--ideal for vegans! Our ingredients: Olive, Coconut and Castor oil, Cocoa and Shea butter, Cornish Kaolin Clay, and our own Lavender Essential oil.
The listing is for one bar minimum 150g
All bars may vary in appearance as we are a small batch producer, but the ingredients and loveliness remain the same.