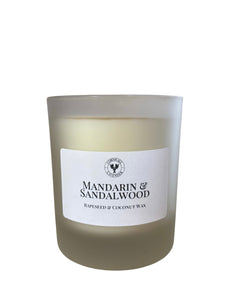 Escape to the spa and find your inner peace with the calming Mandarin & Sandalwood Fragrance Oil. Zesty notes of mandarin harmonise with the soothing, woody essence of sandalwood while beautiful, sweet florals mingle with a hint of fireside embers.
Crafted with natural rapeseed and coconut wax for a clean scent throw , approximately 40-hour burn time.
Handmade and hand-poured in the beautiful Cornish  countryside, these highly scented candles will fill your home with a wonderful scent for many hours.  All our candles are 100% plant-based and cruelty-free.

* The wax we use is made from rapeseed oil and coconut oil and nothing else. It is completely free from paraffin, soy, palm, beeswax and synthetic additives. It is more eco-friendly and sustainable than soy or paraffin wax and is 100% plant-based and biodegradable.

As an eco-friendly business, our packaging is 100% recyclable.