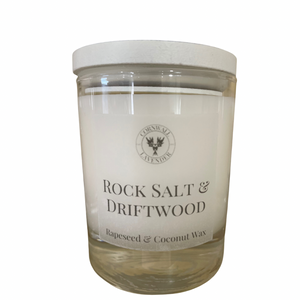 Our Rock Salt & Driftwood candle is reminiscent of seaside breaks, seaweed and fresh coastal breezes with bright, crisp ozone notes captured through rock salt, sweet almond, vanilla and clove for deep rich tones.

Handmade and hand-poured in the beautiful Cornish  countryside, these highly scented candles will fill your home with a wonderful scent for many hours.  All our candles are 100% plant-based and cruelty-free.


* The wax we use is made from rapeseed oil and coconut oil and nothing else. It is completely free from paraffin, soy, palm, beeswax and synthetic additives. It is more eco-friendly and sustainable than soy or paraffin wax and is 100% plant-based and biodegradable.


As an eco-friendly business, our packaging is 100% recyclable.

30  hours burn time.